The DUCKED UP DERBY!
September 24 @ 11:00 am

-

2:00 pm
WINNER guaranteed a $1,000+ prize package & chance to win $50k more & $50k for their team! Team with most ducks also has chance to win $50k!
About this event
SATURDAY, SEPTEMBER 24th from 11am until 2pm at My Warrior's Place. Come get your Quack On!!! 1 Duck for $10 or 3 Ducks for $20. Just click on TICKETS to get your derby ducks NOW!!! You can purchase one duck or multiple ducks on just one team or you can purchase one or more ducks on multiple teams. The more ducks you have on your team the better your odds of being on the winning team – so help us get the word out to your family and friends to get their duck(s) too!! Event starts at 11:00am and the Ducks will race their way down the Little Manatee River at 12pm along the shoreline of the My Warrior's Place property on Saturday, September 24th, 2022. Come cheer for your duck(s) and your duck team(s). There will also be a special prize for the most "Lamed Up Duck" which will be randomly chosen from all the losing ducks. Awesome Food & Drinks. as well as, Raffles will also be available during the event until 2pm. YOU DO NOT NEED TO BE PRESENT TO WIN!!!
THE TEAMS (in ALPHABETICAL ORDER):
Air Force Team – Sponsored by: The Bad Monkey … The Team name is: "HAPPY BOTTOM RIDING CLUB"
All American Team – Sponsored by: 2nd Amendment Armory … The Team Name is: "2nd AMENDMENT QUACKS"
Army Team – Sponsored by: Deb Tainsh & Kelly Kowall … The Team name is: "THE ARMY GOES QUACKING ALONG"
Blue Star Team – Sponsored by: Owen & Dunivan PLLC … The Team name is: "QUACKING THE BLUES"
Coast Guard Team – Sponsored by : Serenity Village Inc. … The Team name is: "THE BRAVES"
Firefighter Team – Sponsored by: Franklin Street … The Team name is: "FRONTLINE FRANKIES"
Gold Star Team – Sponsored by: Gold Star Awareness … The Team name is: "THE QUACKER JACKS"
Hero Biker Team – Sponsored by: My Warrior's Place … The Team name is: "DUCKING AROUND ON HOGS"
Law Enforcement Team – Sponsored by: Suncoast Web Marketing … The Team name is: "THE BLUE LINE PADDLERS"
Marine Team – Sponsored by: New Beginnings of Tampa & Selena Stamm Realtor … The Team name is: "THE RUBBERNECKS"
Navy Team – Sponsored by: 4 Retired Navy Chiefs … The Team name is: "NAVY CHIEF CHICS"
Service Dog Team – Sponsored by: MakSchu Productions … The Team name is: "MUST LOVE DOGS"
Space Force Team – Sponsored by: AUSA Suncoast Chapter … The Team name is: "CAPTAIN KIRK"
Veteran Team – Sponsored by: Bob's Vets of Sun City Center … The Team name is: "THE FIGHTING OLD FARTS"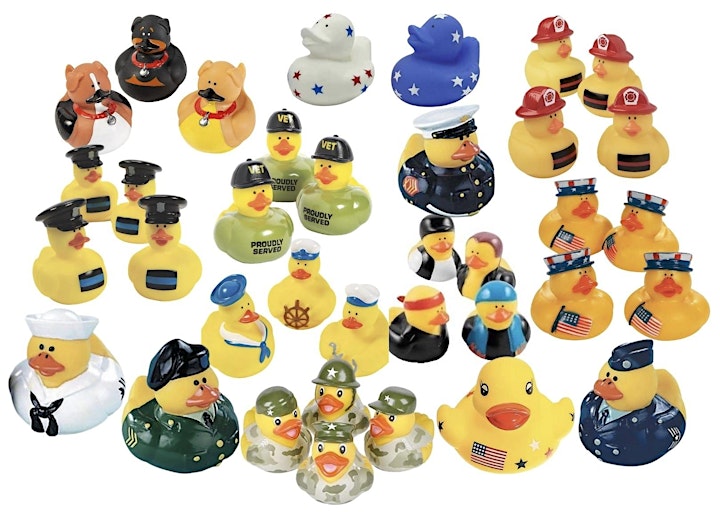 Make sure to like our Facebook Page where you can keep up on the latest "TRASH TALK" reported by our very own MWP Commentators and others prior to the Derby! And watch the race live on Derby Day! www.facebook.com/mywarriorsplace